Virtual Event: How Critical Race Training is Harming K-12
with the Legal Insurrection Foundation and Texas Public Policy Foundation
Wednesday, March 3, 2021
7 PM ET
We're excited to join forces with our friends at the Texas Public Policy Foundation for solutions-oriented discussion about Critical Race Training in the k-12 sphere. What's happening there? What are we seeing? How do we get involved? And more importantly, what can be done? The panel discussion will include a Q&A portion. We welcome you to join in the discussion, but to do so, you'll need to register by clicking the link beneath.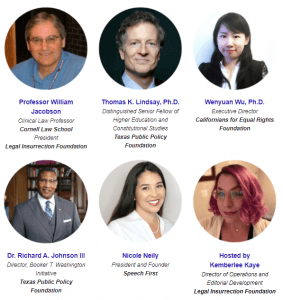 ————————————————————————————————————————————————————————————
The main focus of CriticalRace.org is Critical Race Theory and its applications in higher education, as this is where the ideology was first developed and where many individuals are trained. Our database does not yet cover primary or secondary schools.
We recognize that Critical Race Training in primary and secondary education is a growing issue and one that's significantly more difficult to track.
We've included some resources concerning Critical Race Training in primary schools beneath:
Max Eden – Author, Editor, and Senior Fellow, Manhattan Institute
"Biden Has Embraced 'Critical Race Theory' — but You Can Still Fight It" (Manhattan Institute)
"Critical Race Theory in American Classrooms" (City Journal)
"Public Education Has Gone 'Woke'" (Manhattan Institute)
Christopher F. Rufo – Director of the Center on Wealth & Poverty at Discovery Institute, Writer at City Journal, and Filmmaker
"Indoctrinating an Entire School System in PC Racism" (Manhattan Institute)
"Radicals in the Classroom" (City Journal)
"Spoiled Rotten" (City Journal)
Heritage Foundation
"1619 and the Poisoned Well of Identity Politics"
"A Review of the 1619 Project Curriculum"
"To Tackle Critical Theory in the K–12 Classroom, Start with Colleges of Education"
Articles on Specialized School Admissions
"De Blasio is trying to kill gifted-and-talented education" (New York Post)
"Inside NYC Education Dept. panel's stunning vote to nix controversial 'Gifted and Talented' exam" (New York Daily News)
"San Francisco School Board Commissioner Calls Merit-Based Education 'Racist,' Sparking Debate" (Newsweek)
"'We Cannot Mince Words': San Francisco Education Official Denounces Meritocracy As Racist" (Professor Jonathan Turley)
Additional Resources
"California Wants to Teach Your Kids That Capitalism Is Racist" (Wall Street Journal)
"Critical Race Theory in K-12 Education" (RealClearPublicAffairs)
"Social Justice Comes to Math Class" (Wall Street Journal)
Groups and Organizations
American Enterprise Institute (Conservative Education Reform Network)
Focus on Education (Eagle Forum) (Conservative, pro-family organization)
Heartland Institute (Center for Education Opportunities)
Heritage Foundation (Center for Education Policy)
Manhattan Institute for Policy Research
What Are They Learning? (K-12 curricula watchdog organization)