Our Op-Ed in NY Post: DEI has gone to the dogs
This article was originally published on Legal Insurrection and is based upon the original research of CriticalRace.org.
___________________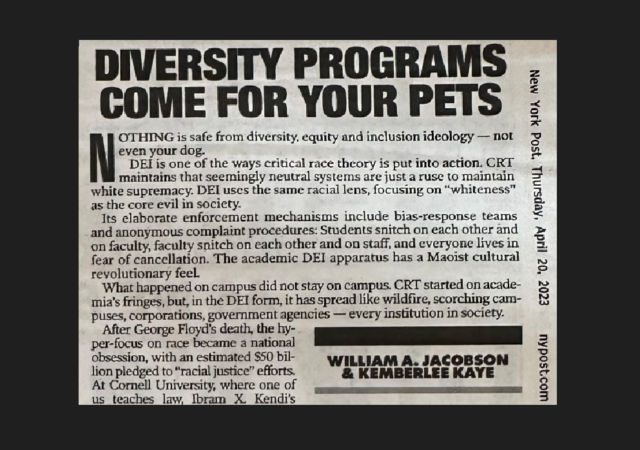 Our latest database has been unveiled at criticalrace.org. Our stellar research team there dug into the country's top 10 veterinary medical schools (two schools tied for 10th).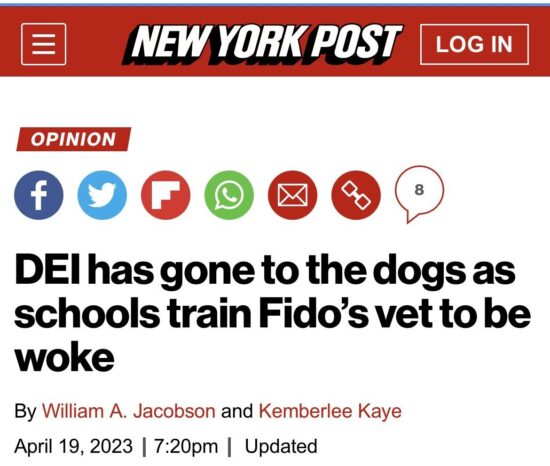 As we explain in our op-ed in the New York Post, we started digging into vet schools half-seriously at first, cracking jokes about it, pretty sure there was no cause for concern and that our initial efforts would come up dry. Boy were we wrong.
You can easily access the vet school database by clicking here, and our entire database that catalogues over 500 institutions of higher education, elite private k-12 schools, military academies, and med schools by clicking here.
The gist of our vet school findings which we outlined in our article in the NY Post are as follows:
Lamentably, DEI has penetrated deeply into the training of veterinarians who will take care of your pets, based on claims that "the industry was exclusively for White people" and, as Cornell says, "building anti-racism in animal welfare" is needed.

White pet owners "not wanting a Black veterinarian treating their pet" is allegedly pervasive, per the American Veterinary Medical Association.

Legislation targeting pit bulls may reflect "biases towards persons of color," a University of Pennsylvania graduate thesis says; indeed, "implicit racial bias in the United States adversely affects the welfare" of the breed.

Though "biases" come into play whenever a vet makes "a judgment toward treatment" — or so insists a paper titled "Preparing veterinary hospitals for greatness through DEI initiatives."

Late in 2020, the American Veterinary Medical Association, with the American Association of Veterinary Medical Colleges, created the Commission for a Diverse, Equitable and Inclusive Veterinary Profession to promote "the value of diversity, equity, and inclusion throughout the veterinary profession" and encourage and help "veterinary medical associations and animal health companies to measure and improve diversity, equity, and inclusion."

Its recommendations include giving "guidance" to vet schools on "creating a brave space for DEI issues and discussions, implicit bias and microaggression training" — and, of course, "a permanent DEI position," along with incorporating "DEI content in the professional program."

Eight of the top 11 schools now have CRT/DEI curriculum or training; three have school-wide mandatory CRT training.

The staff and faculty training prognosis is much worse. Eight of the 11 schools have some sort of mandatory faculty and staff training. Six of the 11 integrate DEI into their search and hiring processes.

Last, but not least, a majority of the top 11 schools have bias-reporting tools that allow for the anonymous reporting of alleged DEI violations.

DEI is rapidly taking over not just academia in general but even the training of Fido's veterinarian.

DEI in veterinary schools is a somewhat comical microcosm of the larger DEI problem. But the damage to society from the hyper-focus on race is no laughing matter.
Every single facet of our educational systems is overrun with this pernicious and divisive DEI grossness. And we're here to shine light on the spread. Because as Professor Jacobson is fond of saying, sunlight is truly the best disinfectant.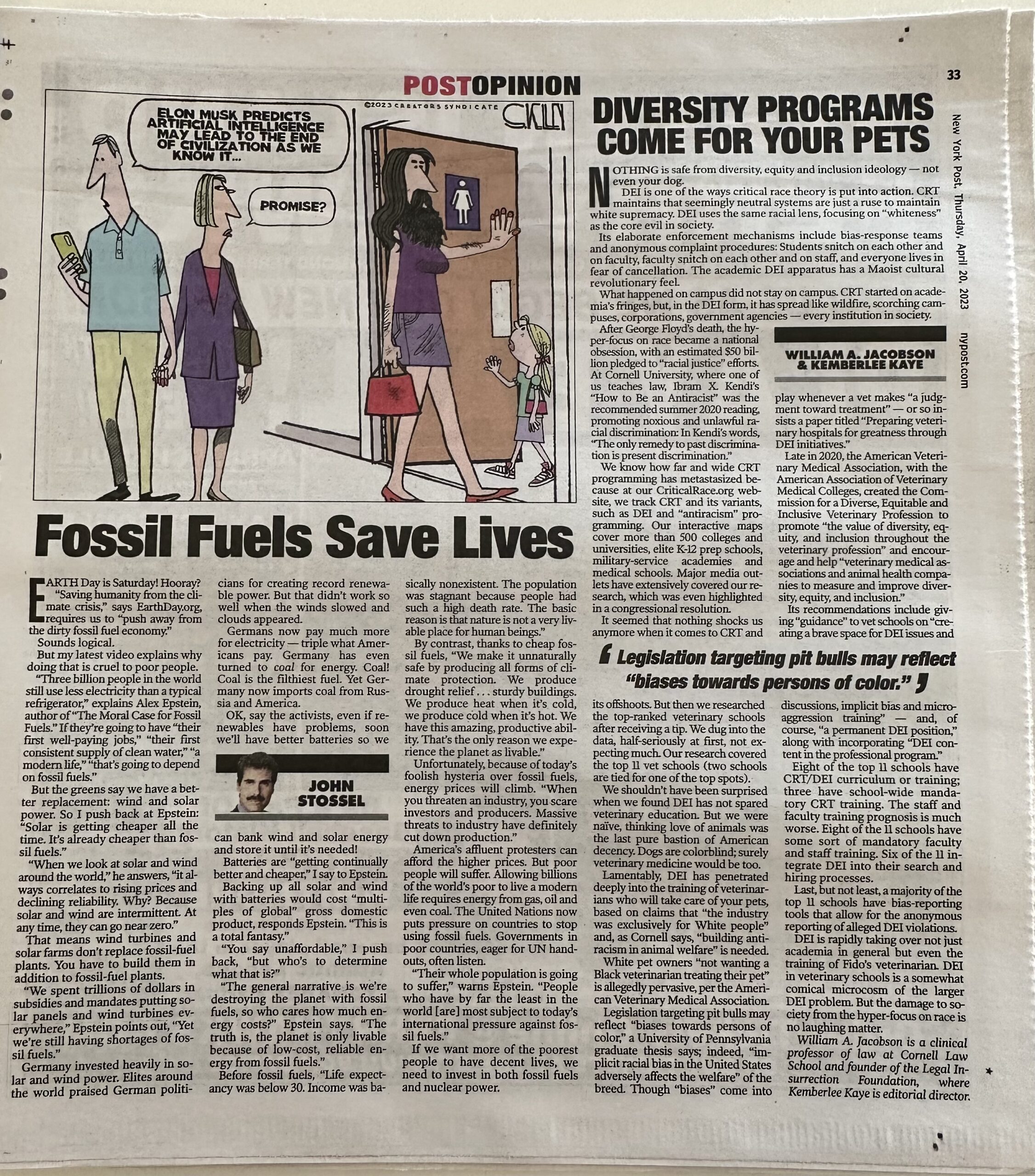 [Note: Prof. Jacobson is scheduled to be on Stuart Varney's show on Fox Business at 10:50 a.m. on Monday. April 24, 2023]